As a PVC Foam Tape for Curtain Wall Wholesale, share it with you.
The carrier or substrate of tape and film are different. This is the most common support/carrier.
Paper: Paper tape products have paper backing, also known as flat back tape.
Cloth: The cloth backing usually contains a woven cloth or fabric layer to increase strength, strength and heat resistance.
Felt: Felt or non-woven tape is usually used on the substrate to prevent scratches.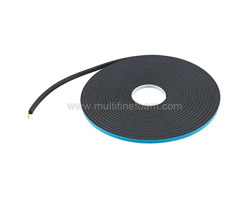 Double Sided PVC Foam Tape
Foam: The adhesive-coated foam backing contains an adhesive that is protected by a lining. Foam is usually used for sealing, weather strips and installation.
Plastic film/polymer: Generally, there are two types of plastics: thermoplastics and thermosets. The plastic product contains one or more plastic layers. They consist of transparent, colorful, printed or ordinary plastic film. They can be single-layer or multi-layer, and can be used in combination with materials such as paper and/or aluminum.
Rubber: Rubber backing can be used to produce suitable self-fusing rubber electrical insulation and sealing tapes.
Silicone: Silicone is a high-quality product for gaskets, insulators, pressure pads and die-cut parts. Various grades of silicone backing can be used to meet various requirements.
Acrylic film: Acrylic film is a plastic or thermoplastic resin film made using polymethylmethacrylate (PMMA) or poly-2-methylpropionate. Acrylic film has excellent transparency and is stable to ultraviolet rays.
Glass/Glass Fiber: Glass fiber composite material or glass layer can resist shrinkage, decay, or burning, thus providing excellent stability in harsh environments.
Filament: A thin ribbon, usually called a strap, is woven into yarn from thousands of filaments (usually glass fibers) and embedded in an adhesive. It is a strong and versatile material that allows users to bundle similar or irregular items together for transportation or storage.
Fluoropolymer / PTFE / PVDF: Polytetrafluoroethylene (PTFE) is an insoluble compound with high chemical resistance and low friction coefficient. Fluoropolymer films, layers or coatings are composed of plastics, such as polytetrafluoroethylene (PTFE) or polyvinylidene fluoride (PVDF). Fluoropolymers are generally used in applications that require excellent chemical resistance, good dielectric properties, and waterproof and antifouling properties. It is also used in applications where the processed materials must not adhere to belts, fabrics or laminates.
The film is a synthetic resin adhesive and may contain a carrier, but not all.
Double-sided tape liners usually contain a differentially coated release liner that can be easily peeled off. These release papers are made of paper, film or silicone.
Our company also has Double Sided PVC Foam Tape on sale, welcome to contact us.