As an XPE Outdoor Mat Wholesale, share with you. In nature, how interesting is the camping life in cooperation with partners. So, do you know about camping? There are various ways to camp.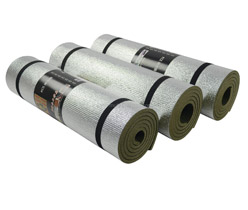 Waterproof Camping Mat
*Day camping
does not need to spend the night, and only uses the camping activities held in one day, most of them are held for the first-time camper's entry experience. Departing in the morning and returning home late at night, so choose a closer destination, and do not spend too much time on the round trip.
Try to avoid self-catering as much as possible, bring ready-made snacks to eat, and master the activity time correctly. Because it is a return trip on the same day, children and the elderly can also easily participate in outdoor activities and experience the fun of camping activities together.
Recommended activities:
·Nature observation of animals and plants·Mountain climbing and walking·Games and dancing picking wild vegetables·Water games by the river·Fishing·Barbecue·Grilled sweet potatoes
Preparation:
·It is better to wear light clothes. If you are in the forest or mountains, you should bring 1 or 2 more clothes to participate.
·Bring a small tent, you can use it during rest or lunch, and you can also feel the camping atmosphere by the way.
·Carry light-weight game equipment such as volleyball, badminton, and skipping rope.
*Park camping
Use nearby parks and plazas as camping sites. It is not allowed to use it arbitrarily without permission from the park and plaza managers, and it is necessary to conduct an in-depth investigation on the equipment of water and sewerage, the use of fire sources for cooking, tent land, toilet facilities, etc.
Parks and plazas may not have complete camping equipment. If there are deficiencies, it is up to the participating colleagues to make up for each other.
Recommended activities:
·Tenting a tent, picnic, kneading pastry, voluntary cleaning activities, campfire evening, dancing party, star observation, community activities, makeup evening
Preparation:
·Go through the procedures for borrowing the venue and investigate the facilities of the venue in advance.
·Utilize tools used in daily life.
·In order to make good aftermath, you should borrow a small shovel and other equipment in case of unexpected needs.
Our company also has a Waterproof Camping Mat for sale, please contact us.