XPE and IXPE are used earlier in the sports industry, they are more common, and the technology is more mature. Such as: sports mats, handles, lying mats, camping mats, yoga mats and various molded parts.

The use of XPE and IXPE has the advantages of beautiful appearance, colorful colors, light weight, easy to carry, environmental protection, and can also play a health role.
As an exercise mat, XPE has the following characteristics:
1. Environmentally friendly XPE material, passed RoHS / REACH / PAHs certification.
2. The closed-cell imitated honeycomb independent cell structure has excellent heat insulation performance.
3. Advanced cutting technology, no glue is used in production. No formaldehyde and no odor.
4. High-density XPE, to give better protection to the spine, arms and knees.
5. Double-sided embossed checkered pattern, good anti-slip effect.
6. The weight is less than the average 400g weight in the same industry, and the quality is easy to carry.
7. Rebound effect is good, comfortable and safer.
8. XPE material has good tensile strength, durability and more affordable.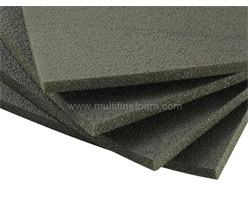 XPE Foam
XPE Foam pores are thicker, IXPE pores are uniform and fine, and the surface is smooth.
XPE is chemically cross-linked polyethylene foaming material. It is made of low-density polyethylene resin, cross-linking agent and foaming agent through continuous high-temperature foaming. Compared with EPE (physical foamed polyethylene, commonly known as pearl cotton) Higher tensile strength and finer cells.
Compared with other PE or non-PE materials, IXPE Foam material has excellent performance in terms of durability, light resistance, and physical impact resistance. XPE itself is chemically stable, difficult to decompose, odorless, and elastic. It is the preferred material for manufacturing crawling mats, sound insulation layers, heat insulation layers, and automobile foot pads.
XPE is an ideal material for automobile and air-conditioning insulation. In recent years, it has developed rapidly in the sports and leisure products market, such as surfboards, moisture-proof mats, yoga mats, and so on. It also has certain uses in construction, and has more extensive applications in flame retardant materials. Recently, it has been widely used in the automotive and packaging industries.
XPE is a free-form continuous foaming material. Soft material with smooth surface, closed cells, independent, uniform, non-absorbent, infinite length, non-absorbent. Compared with other similar products, XPE (IXPE) has better performance. XPE (IXPE) is especially suitable for environmental protection, flame retardant, insulation, waterproof, moisture-proof, shock absorption, cushioning, rebound, thermal insulation, heat insulation, weather resistance, aging resistance, chemical resistance, light weight, easy processing, Non-pollution and other aspects cannot be achieved by other materials at the same time
It is widely used as inner lining core material and outer packaging material in automotive interiors, sports and leisure, tourism products, packaging, freezing, construction, home decoration, decoration of public places, and shoes, luggage, friction materials, agriculture, forestry and fisheries, marine Marine industry, children's toys, medical care and various daily necessities. The market has huge potential and broad prospects.
Our company also has XPE Foam Manufacturer on sale, welcome to consult.