What should I bring when I participate in outdoor camping activities for long distance hiking? As a Rubber Foam Sheet Manufacturer, share with you.

It is recommended that you first consider the preparation based on the attributes of the itinerary and the needs of the situation you will encounter in the process. Individuals will make a large classification based on traveling clothing, packing and storing, warm sleep, food and drinking water, camping and cooking, map navigation, and emergency life support, and then choose the functional, flexible use, and durability. It is also recommended that you develop the habit of listing equipment. If convenient, buy an electronic scale and try to record the weight of each piece of equipment.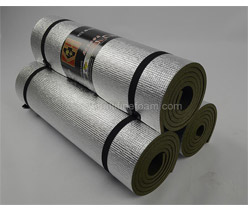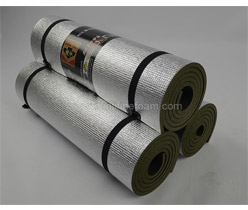 Waterproof Camping Mat
The following is the content of the equipment brought on your two-day and one-night itinerary. The content and classification are based on your own habits and are provided for your reference.
Marching clothing
Definition: Equipment that is often used during walking, during travel, or worn frequently from head to toe.
clothes
Long sleeve bottom coat
Moisture absorption, perspiration, quick drying, wear resistance. Common materials include polyester fiber and wool (avoid wearing cotton). Usually a jacket is worn all the way to the end, based on etiquette, antibacterial and anti-odor is also a point to consider.
trousers
Windproof, quick-drying, elastic and wear-resistant. If you want to wear shorts, as long as you do not cause yourself trouble, there may be thorns and thorns on the road, and there may be doubts about worm kisses.
Two-piece raincoat
Windproof, waterproof, breathable, quick-drying, there are many materials, and budgets are also different. Choose the one that suits you and avoid wearing a disposable raincoat.
Folding umbrella
Choose a lightweight and durable folding umbrella. If the weather is very hot and it is raining, the raincoat can't be worn when walking, you can hold the umbrella; you can cover it when you squat to the toilet.
woollen socks
Essential, comfortable and deodorant.
Hiking shoes
Lightweight hiking shoes and hiking shoes are suitable for long walks. Facing wet mountain trails, especially when going downhill, choosing a stepping point, using the center of gravity to maintain balance, is far more important than the sole material.
hat
Quick-drying, windproof, shade, rain
Trekking pole
It is recommended to use double sticks. Long-distance walking can save effort and reduce the burden on the lower body. It can also be used flexibly when setting up a canopy or non-self-supporting account.
headlamp
Required! Remember to check the battery status before departure
scarf
Keep your neck or head warm
Working gloves
When removing barricades such as fallen wood and other branches, or doing simple trail maintenance
Our company also has Waterproof Camping Mat for sale, please contact us.